Welcome to the Sahara 2017 Wiki
Sahara is a 2017 French-Canadian 3D computer-animated adventure film directed by Pierre Coré
Produced by Mandarin Films and StudioCanal
Summary
Two clans of snakes cohabit in the desert. Beautiful green serpents that live under the shelter of an oasis, protected and venerated by men and venomous snakes that survive in the sand, dust and heat, hunted and killed by the Tuaregs.
Here is the story of Ajar, a young venomous serpent, laughed at by his peers because he still has not done his first molt and that of Eva, rebellious princess of the oasis who wants to escape an arranged marriage. These two will meet and fall in love.
Alas, Eva will be kidnapped by the Tuaregs and Ajar, accompanied by his best friend, Pitt the Scorpion, will have to cross the ruthless Sahara to save Eva from the terrible fate awaiting her.
Characters
Featured Media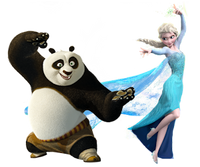 Community content is available under
CC-BY-SA
unless otherwise noted.